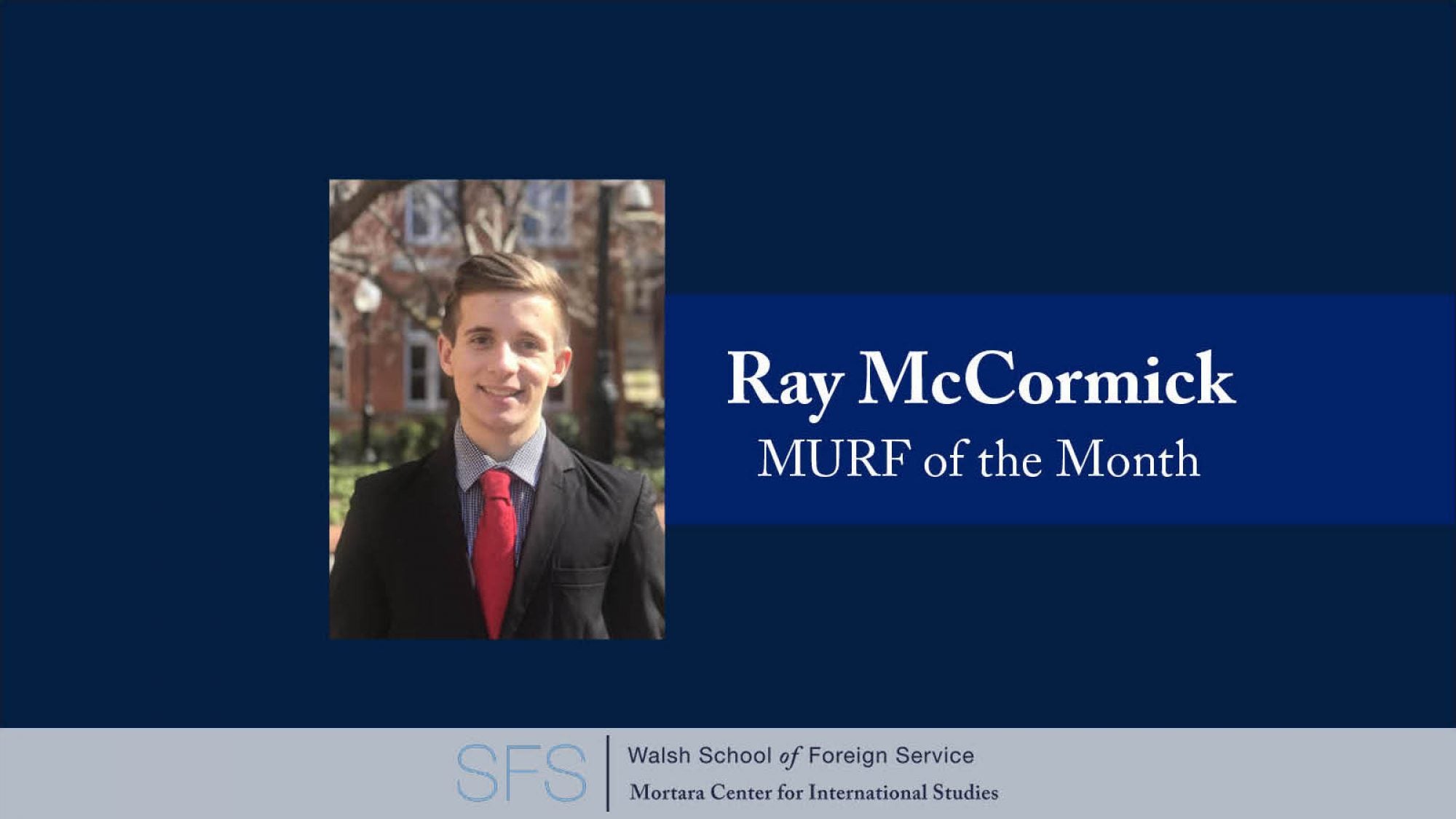 Title:

Meet November's MURF of the Month: Ray McCormick (SFS '22)
Date Published:
November 19, 2020
The Mortara Undergraduate Research Fellows (MURF) program is a four-year research apprenticeship for undergraduate School of Foreign Service (SFS) students with the goal of empowering students as generators, not just consumers, of knowledge. Fellows are selected during their first year at Georgetown and paired with a faculty mentor to gain hands-on experience as a research assistant and gain the necessary skills to carry out their own independent research in their third and fourth years.
Each month, in an effort to share the inspiring stories and impressive accomplishments of these young scholars, the Mortara Center team selects a MURF of the Month to feature.
November's MURF of the Month is Ray McCormick. Ray is a junior in the School of Foreign Service majoring in International Politics. As a MURF, he is currently working on researching how people's occupation may or may not influence their political affiliation. On campus, he has served in leadership on the Southwest Quad Hall Council and been an active member of the Living Well Living Learning Community. One of his favorite things to do in his free time is go kayaking!
Read on to learn more about Ray and his experiences as a MURF through his answers to our MURF of the Month questions.
What is your favorite part about being a MURF?
My favorite part of being a MURF is having the opportunity to form a meaningful relationship with an esteemed member of Georgetown's faculty while assisting them in their research while also developing my own research abilities by working on projects I have a personal interest in.
What is one memory or project that stands out from your time as a MURF?
The project that stands out most to me over the course of my almost two years as a MURF is actually my current project that is seeking to determine if there is a relationship between one's occupation and one's political affiliation. As 2020 is an important election year, and the first year I can vote in a presidential election, this topic is particularly timely and relevant when considering what the political future of the United States might have in store.
What is one particularly helpful piece of advice you've received or a skill you've learned working with your faculty partner? 
The most useful skill I've continued to develop while working with my faculty partner, Professor Sharat Ganapati, is being able to effectively use and understand Stata and its programming language beyond what I learned in my intro-level quantitative methods class.
How have your interests and aspirations developed during your time as a MURF?
Before I became a MURF and began to work with Professor Ganapati, I must admit that my interest in economics was mostly limited to completing the three required courses I had to take as an IPOL major. Since then, however, I have developed a greater appreciation for the potential of economic research to provide an additional lens of analysis in explaining why certain policies are chosen by governments and some of the underlying trends influencing broader socio-economic changes, both in the U.S. and globally.
What is one thing other than the MURF program that you've been involved with during your time at Georgetown? How has it impacted you or your work as a MURF?
Besides the MURF program, during the time that I was on campus at Georgetown, I served as both the vice-president and then the president of the Southwest Quad Hall Council. While at first it might not appear that there is much overlap between these two programs, serving on hall council enabled me to converse with a diverse group of Georgetown students, all with different majors, interests, and ideas. From these conversations, I gained inumerable insights and additional perspectives from which I could consider and evaluate the different projects I have worked on as part of the MURF program over the past couple of years.
What is one of your hidden talents or unique hobbies? 
One of my favorite hobbies is to go kayaking whenever I have a free morning or afternoon on a pleasant summer day. When I was growing up, my grandparents lived at a lake fairly close to my house, and on most weekends in the summer, my family and I would visit them and go kayaking on the lake. Ever since then, kayaking has been one of my go-to summer activities and one I love to share with my friends. It's a great way to both relax and get a nice workout.
What fictional character would you be best friends with in real life? 
Not to break up the golden trio, but I'm pretty sure that Hermione Granger and I would be phenomenal friends. We might start off as rivals (I'm a Ravenclaw/Slytherin split), but I think we would end up as best friends in the end.