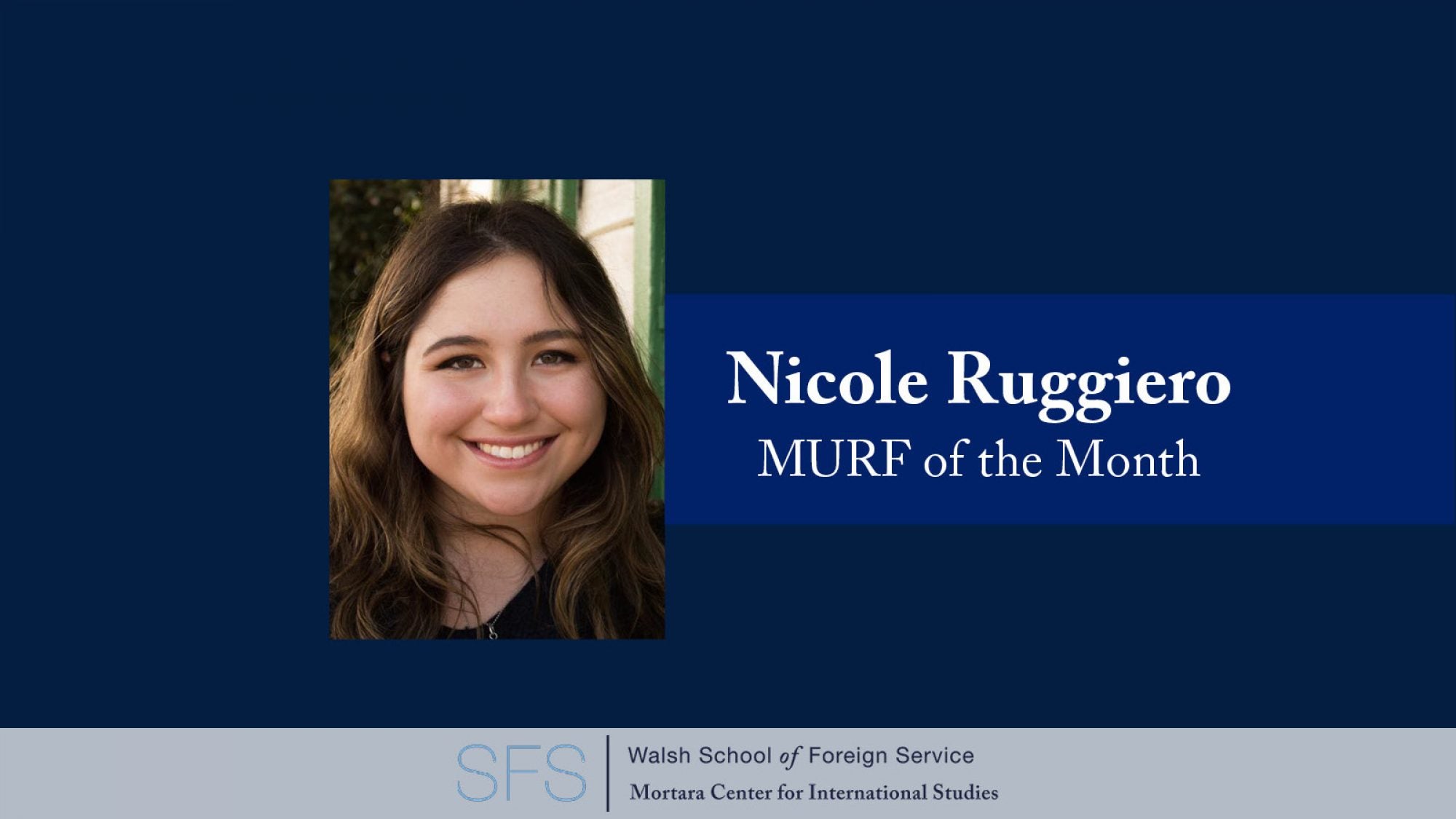 Title:

Meet January's MURF of the Month: Nicole Ruggiero (SFS '21)
Date Published:
January 26, 2021
The Mortara Undergraduate Research Fellows (MURF) program is a four-year research apprenticeship for undergraduate School of Foreign Service (SFS) students with the goal of empowering students as generators, not just consumers, of knowledge. Fellows are selected during their first year at Georgetown and paired with a faculty mentor to gain hands-on experience as a research assistant and learn the necessary skills to carry out their own independent research in their third and fourth years.
Each month, in an effort to share the inspiring stories and impressive accomplishments of these young scholars, the Mortara Center team selects a MURF of the Month to feature.
January's MURF of the Month is Nicole Ruggiero. Nicole is a senior in the School of Foreign Service majoring in Culture and Politics with a minor in Italian. As a MURF, she has conducted research on various topics related to migration which have further developed her passion for improving the lives of migrants and refugees. Her Georgetown experience has also been shaped by her involvement with the Alpha Phi Omega National Service Fraternity, which works with and advocates for underserved communities in the area.
Read on to learn more about Nicole and her experiences as a MURF through her answers to our MURF of the Month questions.
What is your favorite part about being a MURF?
My favorite part about being a MURF is the unique opportunity to explore my research interests, especially when they do not necessarily align with the theme of a course currently offered at Georgetown. Having spent four years watching my fellow MURFs pursue their own passions has been both incredibly fascinating and rewarding, and I cannot wait to see the finished products!
What is one memory or project that stands out from your time as a MURF?
One memory that stands out to me is from my sophomore year, when I had the opportunity to present some of the research I had conducted with my faculty mentor at a presentation attended by representatives from Iraq and several non-governmental organizations. I was terrified at the time, but I am forever grateful to have had that experience.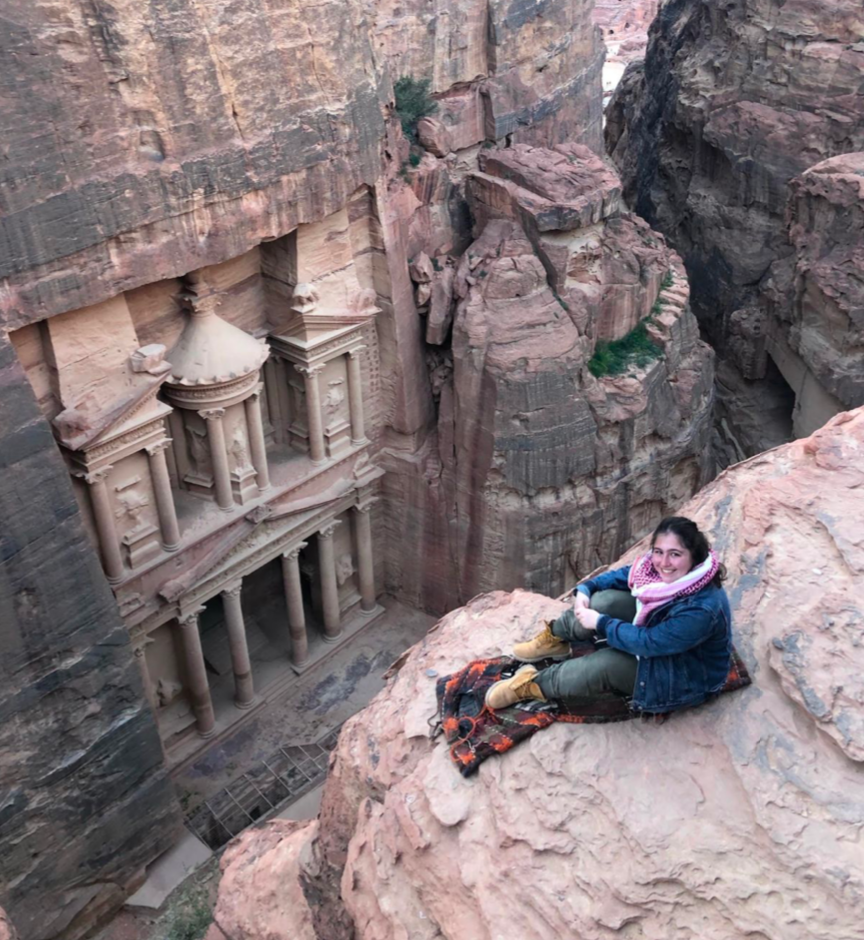 What is one particularly helpful piece of advice you've received or a skill you've learned working with your faculty partner? 
One piece of advice I learned from working with my faculty partner and the rest of her research team is to never underestimate the power of good organizational skills! After conducting numerous literature reviews and rounding up articles relevant to our research, I quickly became acquainted with the best ways of sorting my research and how to summarize articles for future reference. This skill has been incredibly helpful for both my work as a MURF and my classwork.
How have your interests and aspirations developed during your time as a MURF?
After four years of being a MURF and conducting research in migration studies I've only become more dedicated to my goal of pursuing a career that uplifts the quality of life for traditionally marginalized communities all over the world, such as refugees and migrants. My passion for my work as a MURF comes from my hope that this research can be used to one day better the lives of others. I hope to continue this work as a law student upon graduation, and to combine my research and experience to advocate for migrant communities.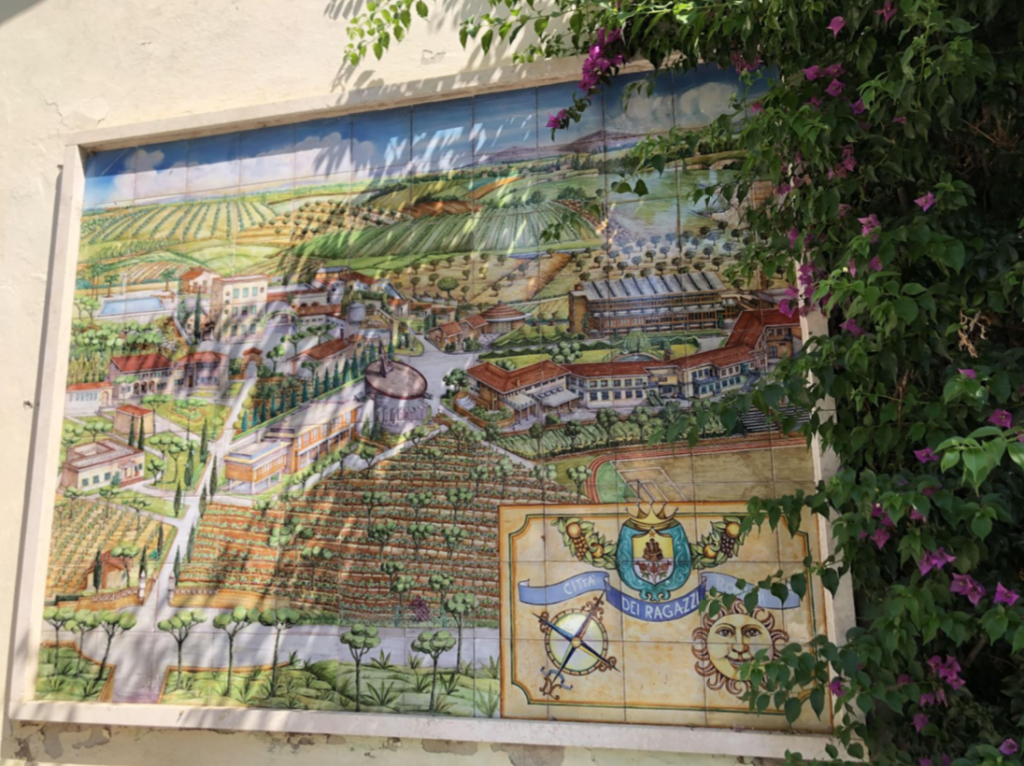 What is one thing other than the MURF program that you've been involved with during your time at Georgetown? How has it impacted you or your work as a MURF?
Other than my work as a MURF, my involvement in the Alpha Phi Omega National Service Fraternity has been instrumental in shaping my time at Georgetown. APO is a community of students seeking to directly work with communities in the D.C. area and has taught me more about advocating for others than any other experience. Just as I hope to use my MURF research to help others, APO has given me the tools to better understand just what it means to live a life of service to the greater community.
Snapchat, Instagram, or Twitter?
Instagram! With all of the COVID restrictions, following travel accounts has allowed me to live vicariously for the past year. And I've taken inspiration from a handful of cooking accounts as well.
What's a movie you can practically quote from start to finish?
I've probably seen ​Pride and Prejudice ​(2005) over a hundred times by now! It's my mom's favorite book and so I grew up with Mr. Darcy as a childhood crush. Plus the soundtrack is absolutely stunning.