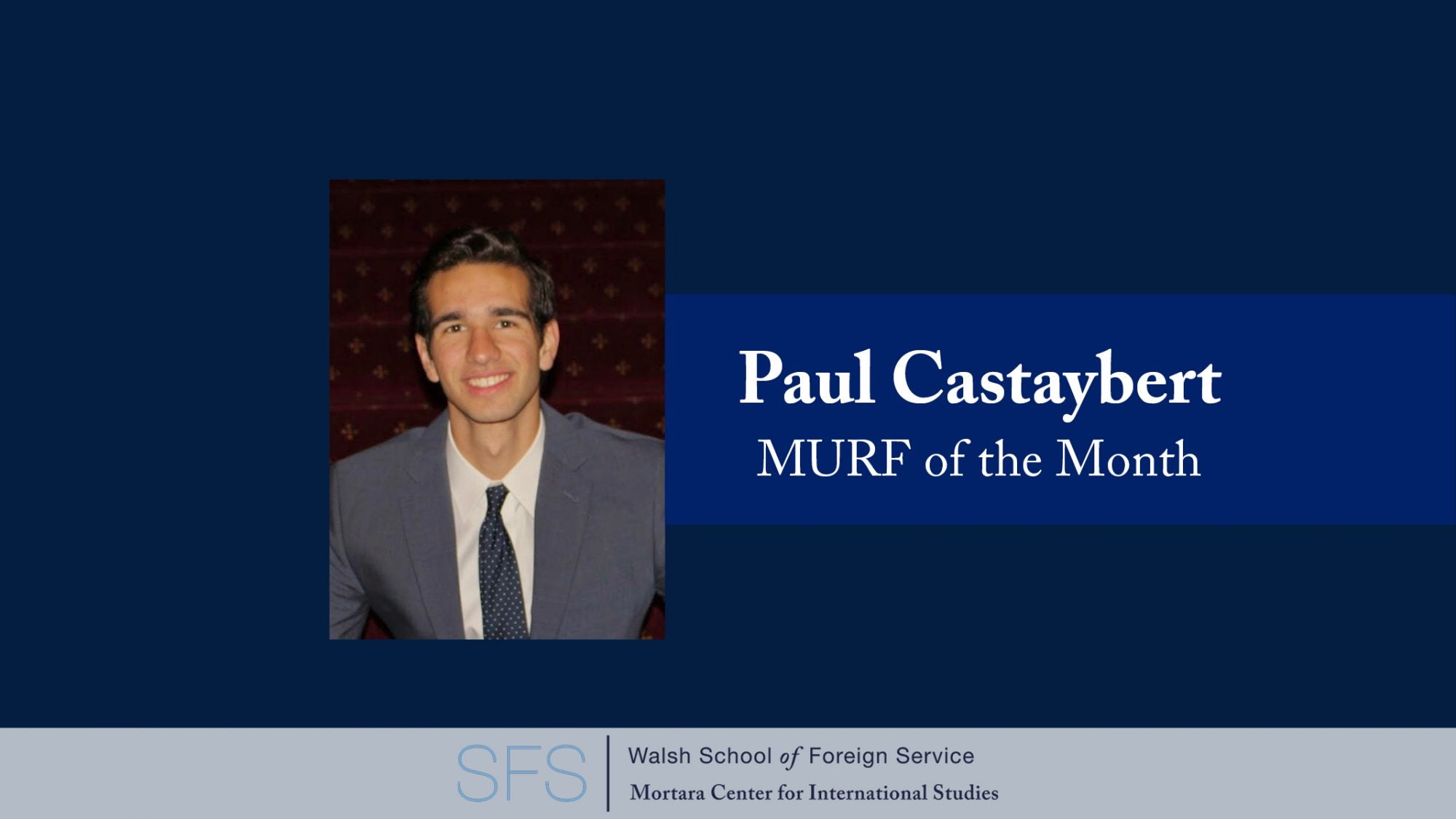 Title:

Meet February's MURF of the Month: Paul Castaybert (SFS '21)
Date Published:
February 22, 2021
The Mortara Undergraduate Research Fellows (MURF) program is a four-year research apprenticeship for undergraduate School of Foreign Service (SFS) students with the goal of empowering students as generators, not just consumers, of knowledge. Fellows are selected during their first year at Georgetown and paired with a faculty mentor to gain hands-on experience as a research assistant and learn the necessary skills to carry out their own independent research in their third and fourth years.
Each month, in an effort to share the inspiring stories and impressive accomplishments of these young scholars, the Mortara Center team selects a MURF of the Month to feature.
February's MURF of the Month is Paul Castaybert. Paul is a senior in the School of Foreign Service majoring in International Political Economy. Through his work as a MURF, Paul developed an interest in the intersections of climate change, finance, and geopolitics. Outside of academics, Paul is a proud member of Georgetown's men's ultimate frisbee team. 
Read on to learn more about Paul and his experiences as a MURF through his answers to our MURF of the Month questions.
What is your favorite part about being a MURF?
Learning about the interesting and important global issues my fellow MURFs have devoted years of time and attention to researching has been a real privilege. Not only has it broadened my perspective, it has helped me hone a more nuanced understanding of the issues I've pored over throughout my three and a half years as a MURF. Most importantly, though, chatting about projects and ideas with other MURFs has served as the foundation of wonderful friendships that I hope will last far beyond graduation.
What is one memory or project that stands out from your time as a MURF?
Symposium my sophomore year (Spring 2019) was a great experience. Two of the Seniors presenting years of hard work, using data they collected from far off locales like nature preserves in Zambia and bustling neighborhoods in the heart of Delhi, were also friends from the Ultimate Frisbee program. Their gripping presentations distracted from the fact that my own slide deck on the motivations underlying Chinese Belt and Road energy investments ran way over time!
What is one particularly helpful piece of advice you've received or a skill you've learned working with your faculty partner? 
During my sophomore year, Professor Joanna Lewis sent me a treasure trove of databases, academic articles, think tank reports, and press clippings about climate and energy issues in China with a particular emphasis on Belt and Road investments. Over the last few years, as I've tried to cobble together literature to inform a variety of different projects, I've often thought back to the breadth and depth of the content she sent me to determine whether my sources are comprehensive enough for me to proceed onto the next step of a given project.
How have your interests and aspirations developed during your time as a MURF?
When I started as a MURF, I was convinced that my life's passion was the political economy of trade and globalization in the developed world. I still find that topic fascinating…but it's definitely not my life's passion. It was through my work as a MURF that I discovered I wanted to study the intersection of climate change, finance, and geopolitics. Since my sophomore year, that has been the impetus for my research as a MURF, for much of my course selection, and for the decisions I've made about the early stages of my career.
What is one thing other than the MURF program that you've been involved with during your time at Georgetown? How has it impacted you or your work as a MURF?
Inspired in large part by my sophomore year MURFs project, I decided to spend the summer of 2019 interning on the House Committee on Science, Space and Technology (in my opinion the most underrated congressional committee!). That experience continues to frame my thinking about different dimensions of the emerging tech ecosystem and prompted me to take a class last semester entitled, "Emerging Tech Policy."
What is one of your hidden talents or unique hobbies? 
I play on Georgetown's Men's Ultimate Frisbee team. Incidentally, there's a long history of MURFs playing frisbee (or frisbee players being MURFs; who knows which way the causality runs). Two of the four MURFs in the class of 2019 were also frisbee players!
What's your most unusual study snack? 
Greek yogurt with any crunchy food I find lying around the pantry. Sometimes it's granola – not so unusual. Sometimes it's leftover Valentine's Day candy that needs to be eaten before it goes bad – more unusual…and definitely not advisable.