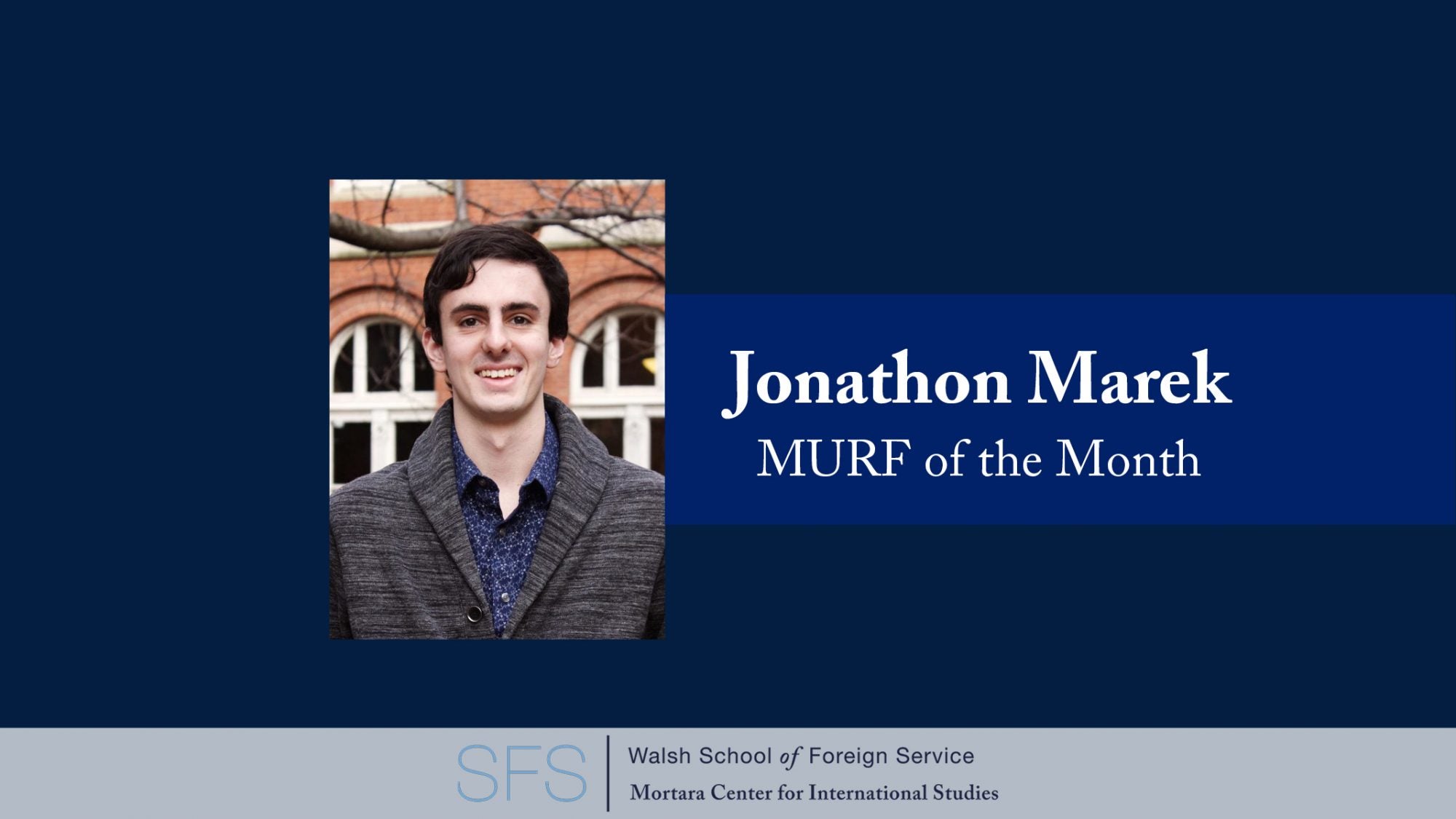 Title:

Meet March's MURF of the Month: Jonathon Marek (SFS '21)
Date Published:
March 30, 2021
The Mortara Undergraduate Research Fellows (MURF) program is a four-year research apprenticeship for undergraduate School of Foreign Service (SFS) students with the goal of empowering students as generators, not just consumers, of knowledge. Fellows are selected during their first year at Georgetown and paired with a faculty mentor to gain hands-on experience as a research assistant and learn the necessary skills to carry out their own independent research in their third and fourth years.
Each month, in an effort to share the inspiring stories and impressive accomplishments of these young scholars, the Mortara Center team selects a MURF of the Month to feature.
March's MURF of the Month is Jonathon Marek. Jonathon is a senior in the School of Foreign Service majoring in International Political Economy with a minor in Chinese and a certificate in Asian Studies. His research interests are in questions related to economic policy and China's economic growth. For much of his time at Georgetown he has worked at the National Bureau of Asian Research (NBR) contributing to research on these topics. His recent piece on technology and innovation policy can be found at this link.
Read on to learn more about Jonathon and his experiences as a MURF through his answers to our MURF of the Month questions.
What is your favorite part about being a MURF?
The best part about being a MURF is the freedom you have to pursue what topics you're interested in. Obviously, this is true for the independent project portion of being a MURF, but it's also true of the work you do with your professor-mentor: not only is that relationship predicated on common interest in a topic, but it's also one in which—since it's a longer-term relationship—you get to work with them as their research grows, rather than just for them. The long-term nature of MURFs is also really nice: it's great to have an opportunity that will persist for the entirety of my time at Georgetown.
What is one memory or project that stands out from your time as a MURF?
I have particularly fond memories of the first symposium. At that point, I was still getting a sense of what exactly being a MURF entailed; to see the incredible research that all my fellow MURFs had done/were doing was very inspiring and gave me a sense of how much was achievable through the program.
What is one particularly helpful piece of advice you've received or a skill you've learned working with your faculty partner? 
I learned a lot about researching using Chinese-language sources from Prof. Looney. Because of the way politics works in the PRC, there are specific ways you have to read academic research published on the mainland; this can be particularly challenging, especially for someone who doesn't speak Chinese as a first language. The ability to do deep dives on Chinese-language literature on, for instance, the CGVO program—an obscure program designed to solve both underemployment of college graduates and rural governance problems—was incredibly helpful.
How have your interests and aspirations developed during your time as a MURF?
That's a great question—I think I came into MURF with a relatively solid idea that I wanted to study China and economic policy in some form, and that's remained rather consistent throughout. I've definitely become more aware of the importance of rural policy to China's development, thanks to Prof. Looney and my MURF work. I've also come to recognize that my interest in research isn't just about answering interesting questions (in the academic sense), but more about finding answers that inform policy (or at least tell us something meaningful about it).
What is one thing other than the MURF program that you've been involved with during your time at Georgetown? How has it impacted you or your work as a MURF?
I've been an intern and project assistant at the National Bureau of Asian Research (NBR) for 2 summers and 3 semesters during my time at Georgetown. It's been an excellent opportunity to work on policy- and strategy-related topics in the Indo-Pacific trade and innovation spaces; furthermore, NBR's model is one in which I've had the chance to work with a number of leading academic experts on U.S.-China and other policy issues. This has been a great learning experience—both to understand the questions they're asking and how they go about answering them in both a rigorous and policy-relevant way—that has informed my work as a MURF and will continue to be helpful moving forward.
Snapchat, Instagram, or Twitter?
Twitter. That app is a blessing and a curse, though—I've come across a number of interesting papers relevant to my MURF work and other interests on there…but nowhere near enough to justify how much time I spend on there.
What's a movie you can practically quote from start to finish?
Dr. Strangelove—the greatest IR movie of all time.