Energy & Climate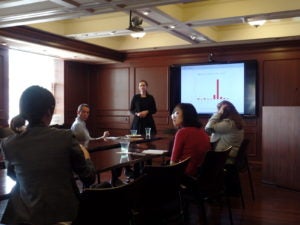 The energy and climate policy research seminar aims to enhance intellectual exchange among faculty and students by providing a forum to discuss research and policy topics related to the international and domestic dimensions of energy and climate change policy. Speakers will include members of the Georgetown community as well as invited faculty and practitioners from the Washington area and beyond.
EPS Spring 2020 Schedule (12:30 p.m. – 2:00 p.m.): 
01/15 – Asia's Energy Transition During Climate's Decisive Decade with Justin Wu (SFS '03) Managing Director and Head of Asia-Pacific Bloomberg New Energy Finance
02/20– "Implementing the Paris Agreement: Insights from Supporting Country Action." Robert Bradley, Knowledge and Learning Director, NDC Partnership
03/19 – "How clean is 'Refined Coal'? An Empirical Assessment of a Billion Dollar Tax Credit." Brian Prest, Resources for the Future
04/16 – "Reducing Global Methane Emissions." Ben Ratner, Environmental Defense Fund.
Fall 2019:
September 25: "How do farmers adapt to natural disasters and climate change? Evidence from Indian cyclones" Stefanie Onder, Assistant Professor of School of International Service, American University
October 9: "How Research informs Policy Advocacy: Modeling the Effects of the Climate Leadership Council's Carbon Dividends Plan" Roberton Williams, Professor of Agricultural & Resource Economics, University of Maryland College Park
November 20: – "Adapting to Sea Level Rise: Short Memories, Long Time Frames, Perverse Incentives" Michael Oppenheimer, Director of the Center for Policy Research on Energy and Environment and Albert G. Milbank Professor of Geosciences and International Affairs, Princeton University
Spring 2019:
January 25: "Trump's Fuel Economy Standard Rollback and New Evidence on Consumer Valuation of Fuel Economy," Ken Gillingham, Associate Professor of Economics, Yale University.
March 20: "Will China Save the Planet?" Barbara Finamore, Senior Strategic Director for Asia, Natural Resources Defense Council.
April 3: "Quantities with Prices: Evaluating a New Proposal to Make the RGGI More Robust," Dallas Burtraw, Darius Gaskins Senior Fellow, Resources for the Future.
April 17: "Climate change and economic diversification in the Gulf Arab states: Integrity, challenges and opportunities," Aisha Al-Sarihi, Visiting Research Scholar, Center for Contemporary Arab Studies, Georgetown School of Foreign Service
May 3: DC Area Energy & Climate Policy Workshop
Fall 2018:
September 12: "How to Subsidize Electric Vehicles," Katalin Springel, Assistant Professor, McDonough School of Business, Georgetown University
October 18: "Covering Climate Change in the Age of Donald Trump," Lisa Friedman, Reporter, Climate Desk, New York Times
November 15: "Beyond Coal? Exploring Variations in Global Protests Against Proposed Coal-Fired Power Plants," Jennifer Hadden, Assistant Professor, Department of Government and Politics, University of Maryland
Spring 2018:
February 6: "Two Birds, One Stone? Local Pollution Regulation and Greenhouse Gas Emissions." Claire Brunel, Assistant Professor,School of International Service, American University
March 13: "TBD" Katherine Hamilton, Chair of 38 North Solutions
April 10: "Measuring resilience to natural disasters" Stephane Hallegatte, World Bank
Fall 2017:
September 26: "Club-Based Strategies for Regulating Soot (BC) and Methane in the Arctic: Implications for the Region and Global Cooperation on Climate Change" David Victor, Professor of International Relations and Director of the Laboratory on International Law and Regulation, UCSD.
October 17: "The Political Economy of Pricing Carbon for a 2C World", Joe Aldy, Associate Professor of Public Policy, Harvard Kennedy School.
November 7: "Insights from China's Wind Power Industry and Inherent Controversies of Chinese Industrial Upgrading" Julia Kirch Kirkegaard, Postdoctoral Researcher, Stanford Business School.
Spring 2017:
January 23: "The True Cost of Air Pollution" Daniel Sullivan, Fellow, Resources for the Future.
February 14: "Electrification in Africa: The Future of Power Africa under Trump?" Todd Moss, Senior Fellow, Center for Global Development
March 14: "The Paris Agreement and the Future of Climate Cooperation" David G. Victor, Professor, UCSD.
April 4: "Energy Transitions"  Kyle Meng, Assistant Professor, UC Santa Barbara
Fall 2016:
September 27: "Competing Principals: Governing the Global Expansion of National Oil Companies" Andrew Cheon, Assistant Professor of International Political Economy, SAIS
October 25: "Monarchs and Climate: The Implications of Global Climate Change on Monarch Butterfly Population Dynamics" Leslie Ries, Assistant Professor and Naresh Neupane, Postdoctoral Researcher, Department of Biology, Georgetown University
November 1: "How to make renewable energy investments in developing countries attractive for the private sector" Tobias Schmidt, Assistant Professor of Energy Politics
ETH Zurich.
Spring 2016:
January 26th: "What Happened in Paris? An Assessment by the Georgetown Delegation to COP21" Panel discussion with Joanna Lewis, Associate Professor, SFS/STIA; Vicki Arroyo, Executive Director of the Georgetown Climate Center; Norah Berk, SFS '15; Alexandra Donovan, SFS '17.
February 16th: "An Insider's Perspective on the National Climate Assessment" Glynis Lough, Chief of Staff, National Climate Assessment, US Global Change Research Program.
March 29th: "An Introduction to the Clean Power Plan" David Evans and Alex Marten, Environmental Protection Agency
April 5th: "Geoengineering the Climate" Wil Burns and Simon Nicholson, Co-Directors of the Forum for Climate Engineering Assessment, American University.
Fall 2015:
September 29th: "A Climate of Protection: Trade Policy Responses to Chinese Solar Imports in the EU, the US, and Japan" Jonas Meckling, Assistant Professor of Energy and Environmental Policy, Department of Environmental Science, Policy and Management, University of California, Berkeley
October 20th: "Energy Access and Energy Poverty" Morgan Bazilian, Lead Energy Specialist, World Bank
November 10th: "The Impacts and Effects of Climate Change in a Rapidly-Changing Arctic: Insights from a Science-Policy Perspective" Thomas R. Armstrong, Madison River Group, LLC
Spring 2015:
January 20 – "Putting the Cart Before the Horse: Effective Climate Change Communication Starts with People, Values, and Solutions", Ezra Markowitz, Assistant Professor, Department of Environmental Conservation, UMass-Amherst
February 17 – "Carbon, Climate and Policy: An Insider's Perspective on Bridging the Science and Policy-Making Chasm", Tom Armstrong, President, Madison River Group; Former Executive Director of the US Global Change Research Program
March 3 – "The State of the US Solar Industry," Amit Ronen, Director, GW Solar Institute
April 7 – "Climate Risk Governance in the US States," Mark Stephan, Associate Professor, School of Politics, Philosophy, and Public Affairs, Washington State University
Fall 2014:
September 23 – "How Much Energy Do Building Energy Codes Really Save? Evidence from California," Arik Levinson, Professor of Economics, Georgetown University
October 21 – "American Climate Politics and the Echo Chamber Effect," Dana R. Fisher, Professor of Sociology and Director of the Program for Society and the Environment, University of Maryland
November 12 – "Next Year in Paris: Building Flexibility and Ambition into a New Global Climate Agreement," Elliot Diringer, Executive Vice President of the Center for Climate and Energy Solutions (C2ES)
Spring 2014:
January 31: "DC Area Energy and Climate Faculty Workshop"
February 5: "Recommendations for Effective US-China Cooperation on Clean Coal and Shale Gas Technologies"
Sarah Forbes, Senior Associate, World Resources Institute
March 5: "Nuclear Policy and Politics in the United States"
Gregory Jaczko, Former Chairman, US Nuclear Regulatory Commission
March 19: "The future of coal in the US and China: Technology, Policy, and Opportunity"
Julio Friedmann, Deputy Assistant Secretary for Clean Coal, Department of Energy's Office of Fossil Energy
April 9: "The Ecological Impacts of Climate Change"
Gina Wimp, Associate Professor, Georgetown University Department of Biology
Fall 2013:
September 25: "Protecting Public Health in a Changing Climate"
Laura Anderko, Robert and Kathleen Scanlon Endowed Chair in Values Based Health Care, Georgetown University School of Nursing and Health Studies
October 9: "Protecting Future Generations From Carbon Pollution and Climate Change: Taking the First Big Steps Under the President's Climate Action Plan and the Clean Air Act"
David Doniger, Policy Director, Climate & Clean Air Program, Natural Resources Defense Council (NRDC)
November 20: "Catalyzing Investment in Urban Sustainability"
Shalini Vajjhala, Visiting Associate Professor, Johns Hopkins School of Advanced International Studies
Spring 2013:
January 16: Green Innovation in China: China's Wind Power Industry and the Global Transition to a Low-Carbon Economy
January 23: "Doha Debrief: COP 18 and the Outlook for the International Climate Negotiations"
Joanna Lewis, Science, Technology and International Affairs Program, SFS
Hao Shen (SFS '13)
Cathryn Courtin (SFS '13)
Laura West (College '13)
February 13: "Federalism, Regulatory Lags, and the Political Economy of Energy Production"
David Spence, Associate Professor, McCombs School of Business, University of Texas at Austin
March 27: "U.S. State Experiences with Renewable Portfolio Standards: Adoption Trends, Effectiveness, and Unintended Consequences"
Sanya Carley, Assistant Professor, School of Public & Environmental Affairs, Indiana University
April 24: "Interests, Institutions, and the Political Economy of Climate Policy: A General Theory"
Llewelyn Hughes, Assistant Professor of Political Science and International Affairs, George Washington University
Johannes Urpelainen, Assistant Professor, Department of Political Science, Columbia University (collaborator)