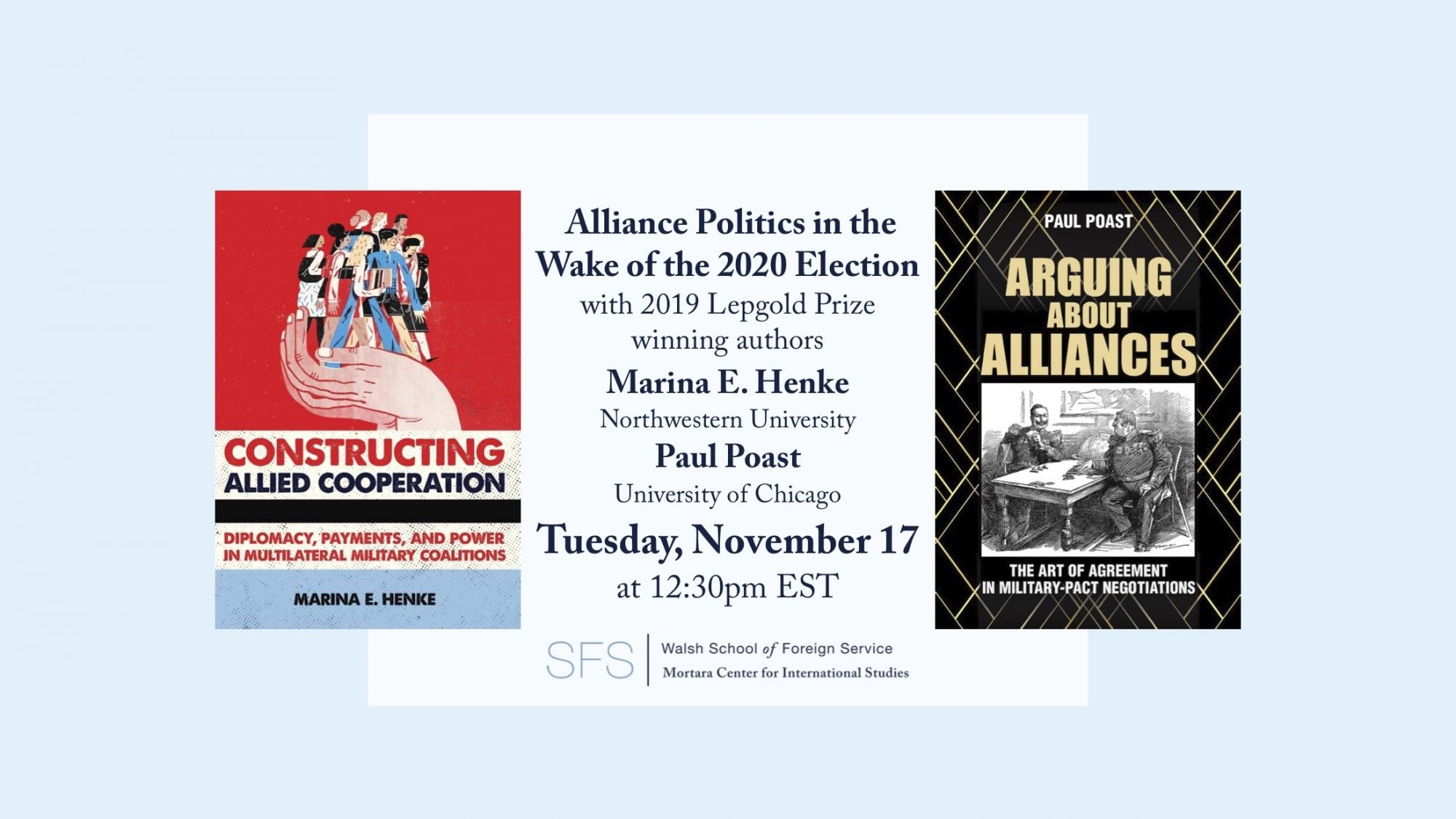 Title:

Congratulations to 2019 Lepgold Prize Winning Authors
Date Published:
October 9, 2020
The Mortara Center is excited to announce the winners of the 2019 Lepgold Book Prize: Marina E. Henke's Constructing Allied Cooperation and Paul Poast's Arguing about Alliances. Please join us in honoring these two scholars' outstanding work at the Annual Lepgold Book Prize Award and Lecture on November 17 at 12:30pm EST. Register for the event here.
About the Books
Constructing Allied Cooperation
How do states overcome problems of collective action in the face of human atrocities, terrorism and the threat of weapons of mass destruction? How does international burden-sharing in this context look like: between the rich and the poor; the big and the small? These are the questions Marina E. Henke addresses in her new book Constructing Allied Cooperation. Through qualitative and quantitative analysis of 80 multilateral military coalitions, Henke demonstrates that coalitions do not emerge naturally. Rather, pivotal states deliberately build them. They develop operational plans and bargain suitable third parties into the coalition, purposefully using their bilateral and multilateral diplomatic connections—what Henke terms diplomatic embeddedness—as a resource. As Constructing Allied Cooperation shows, these ties constitute an invaluable state capability to engage others in collective action: they are tools to construct cooperation.
Arguing about Alliances
Why do some attempts to conclude alliance treaties end in failure? From the inability of European powers to form an alliance that would stop Hitler in the 1930s, to the present inability of Ukraine to join NATO, states frequently attempt but fail to form alliance treaties. In Arguing about Alliances, Paul Poast sheds new light on the purpose of alliance treaties by recognizing that such treaties come from negotiations, and that negotiations can end in failure.
In a book that bridges Stephen Walt's Origins of Alliance and Glenn Snyder's Alliance Politics, two classic works on alliances, Poast identifies two conditions that result in non-agreement: major incompatibilities in the internal war plans of the participants, and attractive alternatives to a negotiated agreement for various parties to the negotiations. As a result, Arguing about Alliances focuses on a group of states largely ignored by scholars: states that have attempted to form alliance treaties but failed. Poast suggests that to explain the outcomes of negotiations, specifically how they can end without agreement, we must pay particular attention to the wartime planning and coordinating functions of alliance treaties. Through his exploration of the outcomes of negotiations from European alliance negotiations between 1815 and 1945, Poast offers a typology of alliance treaty negotiations and establishes what conditions are most likely to stymie the attempt to formalize recognition of common national interests.
About the Authors
Marina E. Henke is Professor of international relations at the Hertie School in Berlin and Northwestern University. She also directs the Hertie Centre for International Security.
Paul Poast is an associate professor in the Department of Political Science at the University of Chicago. Paul is also the Director of Graduate Studies in the Department of Political Science and Faculty Director of the Summer Institute for Social Research Methods.
About the Award
The Georgetown University Lepgold Book Prize honors Joseph S. Lepgold, a Georgetown University Government and School of Foreign Service professor who died in a tragic hotel fire in Paris in December 2001. The prize honors exceptional contributions to the study of international relations, with particular emphasis on the resolution of critical policy challenges, published each calendar year.