Lepgold Book Prize
The Georgetown University Lepgold Book Prize honors Joseph S. Lepgold, a Georgetown University Government and School of Foreign Service professor who died in a tragic hotel fire in Paris in December 2001. The prize honors exceptional contributions to the study of international relations, with particular emphasis on the resolution of critical policy challenges, published each calendar year.
The prize awards $1,000 to the author of the best book in international relations, broadly conceived, each year. To receive the award, the winning author agrees to give a lecture on his or her scholarship at the Mortara Center.
Nominations for the 2022 prize are being accepted until June 23, 2023 from presses that publish in the field. For questions on how to nominate a book, please email mortaracenter@georgetown.edu.
2021 Lepgold Prize Winner
The winner of the 2021 Lepgold Book Prize is Yeling Tan for Disaggregating China Inc.: State Strategies in the Liberal Economic Order. Dr. Tan discussed her research with Mortara Center director Elizabeth Saunders at this year's Lepgold Book Prize Award and Lecture on November 17, 2022.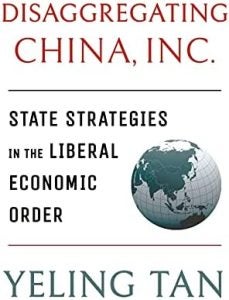 About the 2021 Prize Winning Book
Set in the aftermath of China's entry into the World Trade Organization, Disaggregating China, Inc. questions the extent to which the liberal internationalist promise of membership has been fulfilled in China. Yeling Tan unpacks the policies that various Chinese government actors adopted in response to World Trade Organization (WTO) rules and shows that rather than disciplining the state, WTO entry provoked a divergence of policy responses across different parts of the complex party-state.
Tan argues that these responses draw from three competing strategies of economic governance: market-substituting (directive), market-shaping (developmental), and market-enhancing (regulatory). She uses innovative web-scraping techniques to assemble an original dataset of over 43,000 Chinese industry regulations, identifying policies associated with each strategy. Combining textual analysis with industry data, in-depth case studies, and field interviews with industry representatives and government officials, Tan demonstrates that different Chinese state actors adopted different logics of adjustment to respond to the common shock of WTO accession. This policy divergence originated from a combination of international and domestic forces.
Disaggregating China, Inc. breaks open the black box of the Chinese state, explaining why WTO rules, usually thought to commit states to international norms, instead provoked responses that the architects of those rules neither expected nor wanted.
About the Author
Yeling Tan is an assistant professor of political science at the University of Oregon. She is also a nonresident senior fellow at the Peterson Institute for International Economics and a nonresident scholar at the UCSD 21st Century China Center. Her research sits at the intersection of international and comparative political economy, with an emphasis on globalization and China's economic governance. Her book, Disaggregating China, Inc. (Cornell University Press, 2021), examines the variegated impact that entry into the World Trade Organization had on China's economic and industrial policymaking. She has published articles in Comparative Political Studies, Governance, the China Journal, and Global Policy, and is coauthor of China Experiments (Brookings Institution Press, 2012), and coeditor of Asia's Role in Governing Global Health (Routledge, 2013).
Tan's policy analysis has been published in Foreign Affairs, Foreign Policy, the Washington Post, and by the World Economic Forum. She holds a PhD in public policy from Harvard University, an MA in public administration in international development from the Harvard Kennedy School, and a BA in international relations and economics from Stanford University. Apart from research on globalization and China, she has also worked in the public and nongovernmental sectors on a range of issues including economic development, international security policy, global governance, and governance innovations.
Past Winners of the Lepgold Book Prize