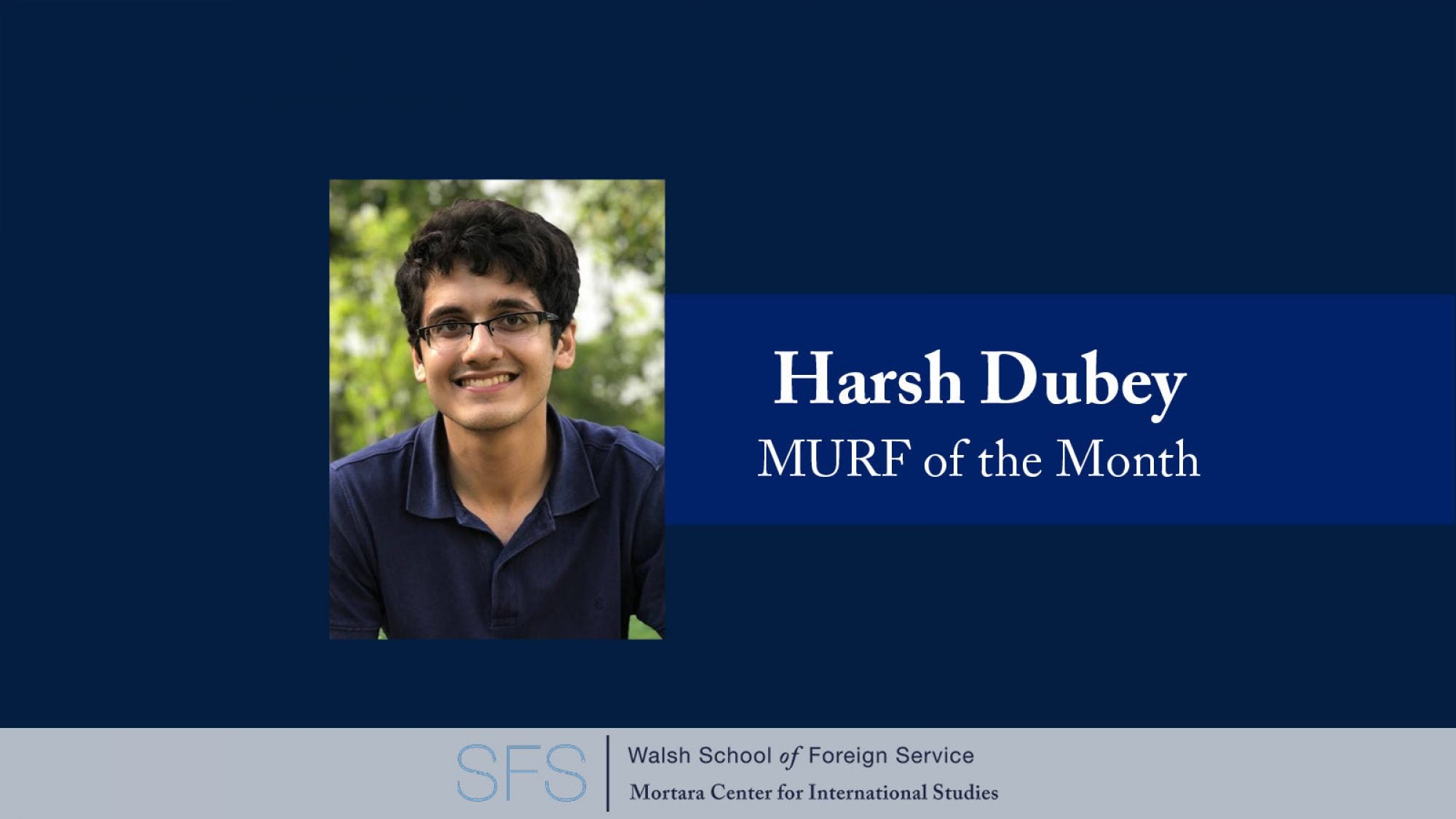 Title:

Meet December's MURF of the Month: Harsh Dubey (SFS '20)
Date Published:
December 21, 2020
The Mortara Undergraduate Research Fellows (MURF) program is a four-year research apprenticeship for undergraduate School of Foreign Service (SFS) students with the goal of empowering students as generators, not just consumers, of knowledge. Fellows are selected during their first year at Georgetown and paired with a faculty mentor to gain hands-on experience as a research assistant and learn the necessary skills to carry out their own independent research in their third and fourth years.
Each month, in an effort to share the inspiring stories and impressive accomplishments of these young scholars, the Mortara Center team selects a MURF of the Month to feature.
December's MURF of the Month is Harsh Dubey. Harsh is a senior in the School of Foreign Service majoring in International Economics. He considers his international upbringing to be the main cause of his interest in global affairs. At Georgetown, he has been involved with Carroll Fellows, the Georgetown University India Initiative, and India Ink as well as a cricket club that he started!
Read on to learn more about Harsh and his experiences as a MURF through his answers to our MURF of the Month questions.
What is your favorite part about being a MURF?
The chance to pursue areas of research that I'm interested in, and to speak to experts both at Georgetown and outside. I also appreciate the incredible support of the Mortara Center in providing resources to help fellows with individual needs (skills development, books, etc).
What is one memory or project that stands out from your time as a MURF?
The chance to work with Dr. Raj Desai, a leader in D.C. and the field of development economics. I learned so much from that experience!
What is one particularly helpful piece of advice you've received or a skill you've learned working with your faculty partner? 
Go down rabbit holes – find a topic you're interested in, and read everything you can get your hands on about it. It's an incredibly fun thing to do and a very quick way to learn a lot.
How have your interests and aspirations developed during your time as a MURF?
My research areas of interest have changed. I was originally interested in economic development research and the role of international institutions like the World Bank. Now I'm interested in how states and the private sector can leverage innovation policy to fight climate change. There are so many different opportunities to explore!
What is one thing other than the MURF program that you've been involved with during your time at Georgetown? How has it impacted you or your work as a MURF?
I spent a year doing research on irrigation reform in the India Innovation Studio. This was a great complement to my MURFs work in an adjacent area of interest, and also taught me many of the skills I've been using in my independent research.
Snapchat, Instagram, or Twitter?
Twitter! Memes, articles, book recommendations, and even meeting new people in real life – you can get everything on it.
What's your most unusual study snack? 
Not sure how unusual this is, but I'm a big fan of peanut butter in oatmeal!