DESC Workshop and Public Policy Panel

Digital Economy and Security Collaborative (DESC) Workshop and Public Policy Panel
On April 28th-29th, 2022, the Digital Economy and Security Collaborative (DESC) hosted a workshop that built on our DESC speaker series, where over 30 scholars from across the globe met in-person and on Zoom to discuss the key issues at the intersection of the global digital economy and national security.
The DESC workshop conversations aimed to focus on overcoming the silos currently existing between scholarship on the tech economy and on national security. Participants discussed a variety of issues ranging from what questions need to be asked about how the digital economy and security interact, to what the key theoretical and empirical developments need to occur for us to better grapple with today's digital transnational politics.
Workshop participants prepared short memos that launched our discussions in each issue area, with our facilitators providing an initial response. Memo topics included AI governance, platform power and data, platform companies and security governance, economic interdependence and cyber conflict, and many more.
To kick off the workshop, we hosted a public policy panel titled "Digital Markets in an Age of Geostrategic Conflict" on Wednesday, April 27th followed by a cocktail reception at the Mortara Center. Our guest speakers included Samm Sacks (Cyber Policy Fellow, New America), Karen Kornbluh (Director, Digital Innovation and Democracy Initiative, German Marshall Fund), and Igor Mikolic-Torreira (Director of Analysis, Center for Security & Emerging Technology). The panel was chaired by GPEP co-director Abe Newman.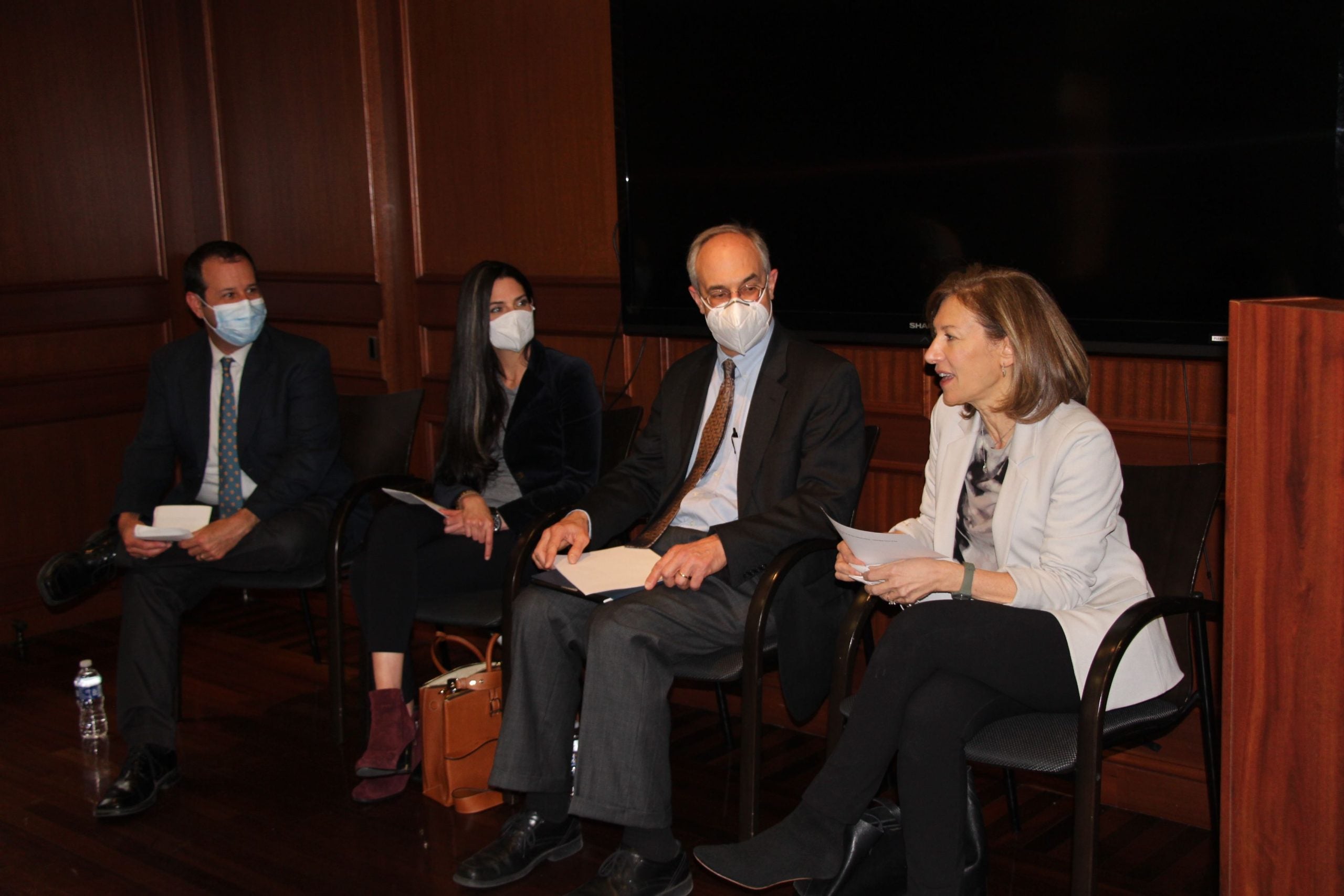 You can view a recording of the public policy panel event here.
DESC Workshop Participants: 
William Akoto, Assistant Professor, Department of Political Science, Fordham University
Maha Atal-Rafi, Assistant Professor, School of Social and Political Sciences, University of Glasgow
Guillaume Beaumier, GPEP Fellow, Mortara Center for International Studies, Georgetown University
Dan Byman, Professor, School of Foreign Service and Department of Government, Georgetown University
Elena Chachko, Rappaport Fellow, Harvard Law School, Harvard University
Ling Chen, Assistant Professor, School of Advanced International Studies, Johns Hopkins University
Laura DeNardis, Professor, School of Communication, American University
Henry Farrell, SNF Agora Professor of International Affairs, School of Advanced International Studies, Johns Hopkins University
Lars Gjesvik, Research Fellow Center for Digitalization and Cyber Security Studies, Norwegian Institute of International Affairs
Stacie Goddard, Professor of Political Science, Wellesley College
Anita Gohdes, Professor of International and Cyber Security, Hertie School in Berlin
Jonas Heering, Bunker Fellow Institute for the Study of Diplomacy and PhD Student, Department of Government, Georgetown University
Sarah Kreps, Associate Professor, Department of Government, Cornell University
Siyao Li, Ph.D Candidate, Department of Political Science, University of Pennsylvania, incoming Assistant Professor of International Affairs, Graduate School of Public & International Affairs, University of Pittsburgh
Jon Lindsay, Associate Professor, School of Cybersecurity and Privacy, Georgia Institute of Technology
Lizhi Liu, Assistant Professor, McDonough School of Business, Georgetown University
Kathleen McNamara, Professor, Department of Government and School of Foreign Service, Georgetown University
Michael Murphree, Assistant Professor, Darla Moore School of Business, University of South Carolina
Abraham Newman, Professor, School of Foreign Service and Department of Government, Georgetown University
Harry Oppenheimer, Ph.D Candidate Department of Government, Harvard University
Philip Rogers, GPEP Fellow, Mortara Center for International Studies, Georgetown University and PhD Candidate, University of California, Berkeley
Sergey Sanovich, Postdoctoral Research Associate, Center for Information Technology Policy, Princeton University
Jackie Schnieder, Hoover Fellow, Hoover Institution, Stanford University
Meicen Sun, GPEP Fellow, Mortara Center for International Studies, Georgetown University, PhD Candidate, Massachusetts Institute of Technology, incoming Postdoctoral Scholar at Stanford University and incoming Assistant Professor,  University of Illinois Urbana-Champaign School of Information Sciences
Thorsten Theil, Political Scientist, Weizenbaum Institute
Kenton Thibaut, Ph.D Student, Department of Government, Georgetown University
Stephen Weymouth, Associate Professor, McDonough School of Business, Georgetown University
Thomas Zeitzoff, Associate Professor, School of Public Affairs, American University
BaoBao Zhang, Assistant Professor, Maxwell School of Citizenship and Public Affairs, Syracuse University